What Is Affiliate Marketing?
| | |
| --- | --- |
| | What is affiliate marketing? Have you ever heard about affiliate marketing? Chances are you have come across affiliate marketing online with out even noticing. Do you understand how it works? The steps of affiliate marketing involves, the merchant often referred to advertiser and the publisher also known as affiliate. I have compose this post on what is affiliate marketing to give you a better understanding. Basically the advertiser pays a commission to affiliates for generating sales, clicks, or leads. Affiliate marketing is also for anyone looking to expand a product. |
How affiliate marketing works: The first step as an affiliate marketer is to sign up for a merchant affiliate network. Once approved for the affiliate program you'll have access to the advertiser email templates, banner ads, and text links. Make sure to choose an affiliate product relevant to your niche. After picking a product to promote you'll need the affiliate link of the item. These affiliate link's are important since ultimately they will generate your income.
The links are very easy to use all you do is copy and integrate the tracking code on your site. These links will be very useful since it allows the affiliate network keep track of your impression, click, and sales. Is very useful especially if you want to find out which products are the most profitable. When a visitor clicks on the link it will take them to the merchant site. If the customer buys the product or service you'll earn a commission. At the end of each month you'll receive a check from every sale you generated.
I have attached below a chart from a typical scenario between an advertiser and affiliate. This chart will help you understand what is affiliate marketing and the process of it.
Click here to view a larger version.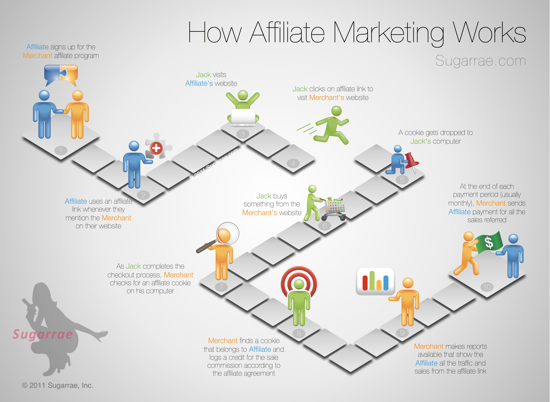 [Image provided courtesy of the Sugarrae affiliate marketing blog.]
How do affiliate programs pay? By joining an affiliate program it allows anyone to start making money online. Each affiliate network have their own term and conditions and will provide you with the structure of the payment method. There are two common ways to get paid by affiliate networks:
Pay Per Click (PPC):

Is an internet advertising model where the advertiser only pays when their ads have being clicked.

Pay Per Action (PPA):

Also known as Cost Per Action (CPA) is also an internet advertising model where the advertiser only pays you if someone purchases their product.
Benefits of Affiliate Marketing: There are endless opportunities in affiliate marketing. Understanding what is affiliate marketing is the first step of a great new venture. All you to get started as an affiliate is a computer and internet connection. Start making money online as a affiliate and gain a new perspective of having your own business. I have enlisted a guide for affiliate marketing tips for beginners.
Additional benefits:
Affiliate Programs:
I have enlisted a list of affiliate programs that I use to make money online. The list os very useful for any one wanting to monetize their traffic. I have included affiliate networks, networks, ad net works, popups, pay per click, and more.
List of popular affiliate marketplace and networks:
1. Clickbank: Promoting products with Clickbank is not only very easy but you can also earn as much as 75% per sale.
10,000 products you can promote
Recurring revenue from subscription products
Real time stats
Directly deposit/weekly payouts
They handle all the tracking, accounting, and payouts automatically.
Sign up with Clickbank.
You can also search the Clickbank Marketplace for products.
2. Linkshare: What makes Linkshare different from other affiliate networks is their well known brands in the world. In addition, their innovative link technologies.
Known brands include: Walmart, Macy's, Clinique, Apple iTunes, and many more
Flex links for videos
Flash content
Bento box
Sign up with:
3. Affiliate Scout: It's another great affiliate program to join.
Easy to sign up
Free to join
Over 935 categories to choose from
Sign up for Affiliate Scout
4. Shareasale: It has being established since 2000, over 2,500 merchant, direct deposit, well know brands, and more.
Sign up for shareasale.
5. The Hoth: Aggressive Outsourced SEO Link Building Affiliate Company:
Free to join
Real time statistics and reporting
Different merchants to choose from
Backed by 5000 + campaigns
Outsourced SEO Link Building
Sign up with The Hoth
I have attached a massive list of affiliate programs for monetizing your site.
Make Money Online Tools > What Is Affiliate Marketing?